A room in a Greek temple only accessible for the priests was called Abaton: "Sacred place". A space impervious to most people.
Since opening its doors in 1970, Abaton has been one of the first art house cinemas in Germany. It is a place where gods of the silver screen speak to you – and since summer 2022 in Ukrainian, too. How come?
Ukraine was a focus point in many areas this year, including in cinema. "Growing up in Ukraine – current cinematic perspectives" was the name of the special programme of the SchulKinoWochen.
From June 14th to 30th 2022 Deutsche Kinemathek and Abaton invited to a series of Ukrainian movies: "Perspectives of Ukrainian Cinemas", accompanied by conversations with Ukrainian arts editors and sponsored by Bundeszentrale für politische Bildung. The programme was curated by Victoria Leshchenko and Yuliia Kowalenko. The movies were also shown in Berlin and Leipzig. I presented four out of seven movies at Abaton cinema.
"Deutsche Kinemathek asked me whether we wanted to show Ukrainian movies. They were in contact with Kinematik in Kyiv, had created a programme and were looking for cinemas. Then we made this programme and that was how we met"; Felix Grassmann remembers.
We are seated in the Abaton Café while "Clara and the magic dragon" (Directed by Aleksandr Klymenko) is playing in Ukrainian. It's winter, the auditorium is almost full and I think back to last summer.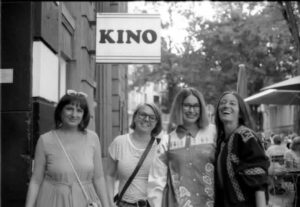 Ukrainian cinema: life or movie?
June in Hamburg. Unusually hot and dry. "We brought the sun back from Ukraine", the new arrivals joke. 27 Degrees Celsius in Hamburg and a giant line in front of the cinema. It is this presence alone that seems to accomplish more than I think myself capable of in moments of doubt. How important it is to stick together.
For my new friends from Ukraine that managed to escape, that spent many nights in their basements, maybe have no home, no city left, all these women and children who know what the "red zone" is – not from movies. Grenade bombardment, damaged towns, houses, schools. They reacted to every sound. These were not fitting movies. Still, they all wanted to go to the movies.
For my German friends that I had invited we showed the classic "Arsenal" (1929) by Oleksandr Dowschenko. Instead of popcorn-cinema amusement they were shown the story of the squashing oh the Bolshevik revolt in Kyiv against the bourgeois-national government of Ukraine in 1918. A friend of mine perceived the new music accompanying the film by British composer and multi-instrumentalist Guy Martell as a lullaby. "Klondike ", best international film (script and direction: Maryna Er Gorbach), was unbearable for another friend. He "could not stand the misery after a certain point" – and left the cinema.
"That is life, not a movie" I thought in that moment. For the people of east Ukraine, it has been for eight years. There I noticed how surreal Ukrainian life is on screen.
"Until they have all seen them"
The turning point was the documentary "The Earth is Blue as an Orange" (dir. Iryna Tsilyk). So many mothers came with their children, the line stretched all the way to the bus station. Suddenly all these families from different cities of Ukraine, their homes demolished by mines and rockets, were in the cinema seats.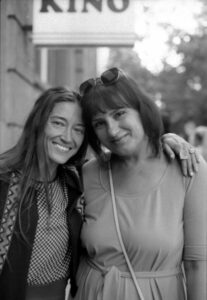 "We have to show something for children from Ukraine" I decided. So many children are in Hamburg now.  We have four cartoons in Ukrainian and we will show them until they all have seen them", Abaton's director told me on the phone. He was on vacation in Paris. His voiced calmed me.
I went to the cinema, took the microphone in my hand and, like the ex-commentator and writer of radio-fairy tales, the golden voice of Ukraine that had lost her voice in Germany ten years ago, I said: "Привіт (hello). I am little mouse Marushka. Ласкаво просимо в кінотеатрі Abaton. Welcome to Abaton." This is how my Mouse-Marushka story began.
Abaton was crowded during the summer holidays.
That summer was not a time of vacation for most Ukrainians. The temperature in northern Germany was at Mallorca level. Going to the cinema during such weather – unthinkable for most Germans. The Ukrainian mamas waved their Ukrainian passports like flyers in the faces of staff members who were waiting for me as an interpreter, to mediate in the unknown language.
Madame Comfort
No means no, no ticket means no ticket (the German language is abundant in "Nos"). The children cannot go inside does not mean: "My child is asleep, and anyway, admission is free." Not all of us were ready for this rush. As a Waldorf teacher with 15 years of experience I took on the part of Madame Comfort – as soon as the children saw Mouse Marushka, they stopped crying. The calm voice of the director that said: "…until they all have seen them" helped me.
To me, Abaton became a place for children and grown-ups alike to cry, to wonder, to forget and to be able to believe in justice in real life again. We still show four cartoons. Young and old from Mariiupol, Kherson, Odessa, Lutzk, Kyiv, Kharkiv – the whole Ukraine is there. Sure, not to watch cartoons
I receive messages by Ukrainians both known and unknown to me: "Mouse Marushka! Today we went to the cinema with my daughter and we want to thank you sincerely for organising cartoon movies in Ukrainian for our children."
I used to want to open a Ukrainian kindergarten in Hamburg, now I have my dream school: Abaton cinema. Where it is all about stories and the common language. The good Ukrainian language and two hours in a colourful parallel world. I used to go to the cinema a lot. Alone. ArtMaidan at Metropolit has been showing Ukrainian films since 2014.
Family History
Still, Abaton was my favourite cinema in the heart of Hamburg. The Abaton display cases have always fascinated me, as well as the programme. It felt like Kyiv even though i was living in Germany. Since last summer I regularly go to the cinema with my Mama Valentyna and Papa Semen, who had last visited a movie theatre thirty years ago. Abaton is family history, as well.
The photo is on display in the Café Abaton. "These are all filmmakers" says Felix.
"My father was a movie producer in the seventies. Filmmakers at the time said: 'We need a theatre to show our movies.' My father said 'Well then, I'll make one.' My father Werner founded the cinema" Felix tells me.
"Mouse Marushka, I saw you on stage and knew, I had to meet you" Lev said to me after the last cartoon. His Mama Lilja comes up to us, they are from Charkiv. Their house is gone. Their apartment is gone. Lev's twin brother Tuchon and his sister survived. They came to Germany with their mother.
"We are immortal like weeds"
Another memory of movies about war: We were sitting in the Pony Bar. Together with to families that became like relatives to me. We met in Abaton as well. Ksenija now writes for kohero, too. Her eight year old daughter and a friend yelled out:"Fireworks!" and clapped their hands during the movie. "Look, for the first time they are not scared" says Arina's Mama Ksenija and adds: "but it is only when they are together that they feel so safe."
"We were watching Paddington 2 and I cried. We were just like the little bear: alone in a new country, a new city. Just in Hamburg instead of London. In the Ukrainian version oft he cartoon, you can hear the voice of our president Zelenskij." Ina is crying and hiding the tears from her daughter. "Don't cry, Mama" says her daughter.
At this time when almost the whole world is preparing for the most important family holiday, Christmas, Ukrainian artists have to protect their country instead of making new films. Time for documentaries. More and more adults come to the cinema alone. Despite all these circumstances, they remain positive and even try to encourage others: "We are immortal like herbs", said my new acquaintance
And we create a new programme with Ukrainian films for the whole family.
A Conversation with Abaton's director Felix Grassmann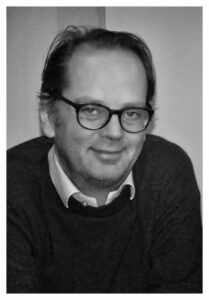 Felix Grassmann usually does not visit regular cinemas: He knows most films already. But he visits film festivals, watches a movie every day. He has been curating the programme for Abaton for three years. Felix has no personal connection to Ukraine, but abhors what is happening there. He has never visited Ukraine.
What is your favourite movie format?
Every form of film has its strengths. I find Children's movies to be relaxing, fascinating and I am happy to see our shows for children packed.  Children are our future. I enjoy Movies and documentaries the same amount.
"Going out at all is something they are not used to anymore."
Three words to describe Ukrainians with?
They are like us. I don't see any big differences, except of course for a difficulty in communication. Ukrainians seldomly speak English and I dont speak Ukrainian, or Russian, I reach my limits there. That's a hurdle that's not so easy to overcome. But when it comes to cinema and movies, it's easy to communicate
What films should be shown to pick up on the contemporary zeitgeist?
We have to remember; it was two years where no one could actually go to the movies. We were closed for a year, last year there were stricter requirements about keeping your distance and wearing a mask. A lot of people felt insecure. If you can't really go to the movies for two years, then you look around and search for something else to do. A lot of people have found something else.
And not only going to the cinema, going out at all is something they are not used to anymore. Theatres and restaurants struggle as well. People are simply staying at home more, and now we have to lure them out of their apartments or houses again. It takes a while for people to find their way back to the cinema. Slowly but surely, it's getting more crowded in the cinemas and theatres.
Abaton helped by showing movies in Ukrainian free of admission. Are you doing this out of a personal interest, connection or is it a project?
I find abhorrent what is happening there. I have to admit there are not so many Ukrainian movies that were coming to German cinemas in the last years. Most were only shown at festivals and then were not really shown in cinemas – but completely unjustified. The programme we showed during Filmfest Hamburg 2022 was excellent. These are all films that basically have their place in theatres.
"We are looking for new movies."
There is often the accusation that people are only involved with Ukrainians and that refugees from other countries are treated differently. What do you think?
It is difficult to differently value aid in this way. But Ukraine is close, and that is why it seems now obvious to help Ukraine. There are  of course other trouble spots, for example Iran. But that is much further away. There are not so many people coming here from Iran. We have to find a way to help and support in a different way. We have to try to intercept the terrible experiences that all refugees have had.
What are some ways to get involved to support you?
We are trying to acquire Ukrainian children's movie, so we can show new movies that no one has seen before. At the time we have only four. We are looking for new movies.
"Cinema will recover, but that the war finally ends is my most urgent wish."
What connection to and what opinion of do you have to Ukrainian cinema? It is popular right now because of the war or is it seeing eye to eye with other international productions?
I think I have now become aware of how big the difference is between Russian and Ukrainian culture. Ukrainian films will certainly find a better place in German cinema in the future than they have so far.
It is important to permanently integrate the current projects for children, adolescents and adults into the programme – not only for Ukrainians, but for everyone. What have you planned for the current projects?
We can do it once a week, we have to see if we have enough films. We will have to wait and see.
What do you wish for the coming months for you personally and for cinema?
I wish for the war in Ukraine to end soon and for people to come to the cinema again. Cinema will recover, but that the war finally ends is my most urgent wish.
This article was also published in German
Bildquellen
Marushka mit Tasia Puchach_Moderatorin im Abaton für die ukrainische Filmreihe_Sandra-Anne Jung_Kulturmanagerin_Kateryna Bandisch_Foto von Denis Uhreniuk: Denis Uhreniuk
Marushka und Kateryna Bandisch_ Foto von Denis Uhreniuk: Denis Uhreniuk
Felix Grassmann_ Foto von Heike Blenk: Heike Blenk