When the Hadhad family arrived in Canada, they had almost nothing left. The war in Syria had caused them to lose family members, their home and their chocolate factory. But just a few weeks after arriving in the small town of Antigonish, the family started making chocolate again in their kitchen, delighting the local community. Today, six years later, Tareq Hadhad runs a fast-growing chocolate factory. He told us the remarkable story of his life.
 In 2012, you left Syria because of the war and you fled to Lebanon with your family. What were the biggest milestones since then? How did you manage to get where you are today?
Yeah, so in 2011, the war in Syria started. That way I lost many family members, who went missing, and many of them were arrested. We lost our house after it was stolen first by the soldiers, and then it was burned, and later bombed.
A couple of months after, by the end of 2012, my father was working in the factory. We had the second largest chocolate factory in the region and around Damascus at that time. It had hundreds of employees. The factory was bombed on this day in December 2012, and all five floors were leveled to the ground after the airstrike.
How many people died through that attack?
All the employees survived. My dad actually left the factory 10 minutes before the explosion. But even after everything was gone, we stayed in Damascus because this was our homeland. We wanted to live there, we wanted to stay in the country and wanted to be part of the rebuilding. Three months after, a rocket exploded next to me and my brother. I was injured in my leg, my brother lost consciousness.
I carried him and brought him back to the house. I was studying medicine at that time and was planning to finish my studies. But when we arrived after the attack, my family and I agreed that we would have to leave in order to survive. So we rushed to the Lebanese border and were registered as refugees.
How did it feel for you to become a refugee?
Being a refugee is not a choice. It's not a life goal, it's not a purpose. Being a refugee is the hardest way to live. We were forced to leave our home after we had tried every other option.
We stayed in Lebanon for three years. I did not want to play the role of the victim. I wanted to play the role of the victor because we survived, we are survivors.
At that time, I was volunteering and working with the United Nation High Commissioner for refugees and I was doing some work with WHO from my medical experience. So, a couple months after, I applied to the Canadian embassy to come to Canada to continue my studies. The people at the embassy and the ambassador saw my application and invited me and my family to go to Canada. I couldn't believe it.
I told my family and they told me: 'Canada is too cold'. But I promised them that they would be fine. So, a couple months after, the new Canadian government came in 2015 and they pledged to bring in 25,000 Syrian refugees.
I was actually on the second plane from Lebanon to Canada that brought refugees and it was a very, very remarkable journey here to be honest.
So you moved to Canada! How was the transition?
I arrived right in Toronto. And then I just realized that I had another flight to the Atlantic Ocean. I came to Canada in December 2015. And then my family followed me after three weeks. We were settled in a small town called Antigonish. The transition to come here from Damascus, a city with five million people, to a small town with five thousand people – that transition was huge.
But we realized that we found a big family around us. People in Antigonish are the kindest, most generous and welcoming people that you will ever meet. They opened their doors and their hearts for us and really wanted to support us to start our lives again. That was really one of the reasons why we were able to get resettled here and to reset our lives so quickly.
We told the Canadians: We did not come here to take jobs. We came here to create them. We probably lost everything we have built in in Syria, but we did not lose our skills and our talents. So, we brought those with us and we brought our passion to share and give back. I think giving back was really the number one priority for me.
Why is chocolate such a remarkable and important thing in your life?
Chocolate is universal. It's that universal language of love and happiness and happy occasions and great memories. Like you know, the moment that you come into a chocolate shop and you smell the chocolate.  That really is what I imagine heaven like.
And chocolate is a big part of the history of my family that goes back to almost four decades of making and distributing chocolate. We sold not only in Syria, but to neighboring countries, too. My dad, actually wasn't a chocolatier all his life. Before 1986 he was a civil engineer, but then he realized that by working in the chocolate business, he can become something he wanted, which is a happiness maker.
He loved that idea of spreading happiness to the world. And that's why when we came to Canada, we realized we might be able to make something that Canadians love: Chocolate.
So you restarted making chocolate when you came to Canada? Why didn't you continue studying medicine?
I was trying to go back to medicine. I applied to go to a lot of schools, but it was difficult because they didn't recognize my academic achievements. Some were even asking me to go back to high school. So, I just decided to rebuild the family business.
Two weeks after our arrival, we sat down at a table and decided to try it again, just to play with chocolate and mix something. My dad and I, and the whole family, we went to the grocery store and started picking up: Black cocoa, butter, and cocoa beans and nibs. We started making chocolate overnight.
The next day, we had around 100 pieces of chocolate. We went out in town and gave away chocolate pieces to everyone and received feedback. People were really stunned by the quality, although we made them with ice cubes and without professional equipment.
You restarted your family business overnight in your kitchen? Where did it go from there?
We started at our home kitchen in 2016. We soon started going to local farmers markets and saw people lining up to get the chocolate. Afterwards, we started thinking about combining the chocolate with a message – people were enjoying the product, so why not tell them a message with it, right?
What do Canadians need to hear and what is our story? We decided to go with peace. The reason for that is that Canadians live in peace but they don't know it, they don't think of it. Peace is a hidden value: No one talks about it unless until it's gone. Peace is taken for granted in many areas. But without peace, no one can go to work. No one can raise kids. No one can go to school. No one can do anything.
Today, our company is called Peace by chocolate. And people are learning about our story in three words, no more. Hopefully no one else has to live through the same experiences that our family had had to go through, and I hope that people are going to be reflecting stories of refugees and those who suffered and survived from wars in Syria.
How difficult was it to establish a business in a foreign country?
Starting a new business is never easy. We started in a very humble way and we were getting a lot of support from the community. We actually received an interest free loan from the community for the first six months that supported us to buy the first chocolate wheel.
I was doing a lot of interviews when I arrived in Canada and then somebody in Nova Scotia heard me on the radio and reached out to me, saying: we can help you with your website and we can do this for you… They were all volunteering, trying to help.
It was absolutely incredible. We got the business registered, we nailed down the name and the logo and the product, and we were working on packaging and all of that. All that happened only a few months after arriving in Canada, which was really great.
Well, that's quite a success story. When I watched the trailer to your movie that's coming up this year, I heard the phrase that you're living the Canadian dream. Would you agree to that?
Absolutely, even more than that. This country has not only given us opportunity to dream big but also given us the chance to live again. Living as refugees after leaving Syria, we had no hope. And I think every dream we had since then was to live in peace, to have hope and to give back. That's what we are doing in Canada. We are reaching out to Canadians asking 'how can we help?' We started something called the peace on earth society, where we donate profits for example to the Canadian mental health association, to Red Cross, to indigenous communities and many others around the country. We believe that peace is inclusive. Peace means to bring people together and that's what the company now stands for.
Refugees quickly become a mass of people. You talk about a lot of individuals but you sum them up. I saw that Justin Trudeau actually quite early on talked about your company and what you're doing. You received a lot of support and visibility during the first month and years of establishing a business in Canada.
Do you think that acknowledging or giving more visibility to refugees as individuals would help them to settle down?
I think it is very important that countries know that refugees have their own experiences. Everyone has a story. And uplifting people to a level where they have a platform to share their stories is going to be not only empowering to them but it's also going to be educational and informative to people who did not live through that experience.
The Prime Minister went on that stage at the United Nations in front of Barack Obama, Angela Merkel, leaders of the world, and told them: This is the example of a family that arrived, rebuilt their business and gave back to Canada in a different way. It was both heart-warming and encouraging. What else could we ask for?
I really hope that every political leader, every organization out there reaches out to refugees, asks them about their own stories, their own experiences and empowers them. Do not feel sorry for refugees, just support them and believe in them. I think that's the key reason why we were able to be where we are today.
Since you are building a brand and a company based on your story, don't you fear being stuck with the stigma of being a refugee for the rest of your life?
We actually don't market our chocolate and we did not make anything in our branding about us being refugees. We are called peace by chocolate. Our slogan is 'one peace won't hurt'.  And our subline is: A Syrian family tradition. We are telling people that we are proud of our roots.
I got my citizenship in 2020 and when I go on stages or do any public appearances or interviews, I just tell people dearly that I am a former refugee. This is part of my journey and this is part of who I am. My grandmother used to tell us: You have to know where you came from to know where you are going. But it is only part of me, the status of being a refugee does not define who I am today.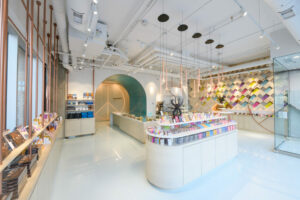 What are you next goals with your family busines?  
Not even the sky is the limit, our chocolate recently has been to space with an astronaut of NASA. We have a movie coming up, documenting our journey, a book as well. I really want to see Peace by chocolate as one of the top five companies in Canada within the next few years and we are working towards that goal. I hope to be able to provide triple the jobs that we have right now within the next two years and we are working on having our products available in every major country around the world very soon as well.
We have very big dreams in terms of the business itself and expanding it. But the overall dream is to see the true contribution of the business to international peace.
This article has also been published in German